Thoughts: June 2021
---
29.06.2021
18:44 Sooo... I officially graduated, I guess. Here's my diploma. What a poor choice, putting blue letters on a blue cover.




We stood under a 26 degrees heat waiting for our diplomas. A lady from the dean's office asked me to pursue a master's degree at the same university, which I kindly declined. The ceremony took place in the Botanical garden, which is a really nice place that I visited before and want to visit again soon. So, I guess I deserve a little rest.

We took a lot of fun photos with my uni buddies, but I'm too ashamed of my face, so they won't be posted here. Instead, have me and my friend taking pics of each other through a curious plastic sheet used as a decoration, and a bonus pic of me taking five.


01:11 Decided to flesh out the site design (don't forget to Ctrl+F5 the pages if something looks wrong); it was still rough around the edges - hopefully it looks better now. I made the background a bit brighter and the horizontal lines not-so-ugly, but the main improvement is the navigational menu - please tell me what do you think about the new look!

Also tomorrow (today actually, ha-ha, get rekt, sleep iz for l0zerz) they will give us our diplomas, after which I will oficially become... someone? I don't know who am I supposed to become, but, you know, formalities, they're important and stuff.
---
27.06.2021
22:01 I'm experiencing an extremely annoying bug with Firefox where I can't paste images on websites. The image inserts itself directly into the input box and is not recognized by the website. I've been ok with it for months, but now this has become so annoying that I'm considering going back to, forgive me for using this word, Chrome.
19:59 Finished shooting a roll of Ektar 100 today. The marvelous thing about this particular roll is that I started it all the way back in the beginning of May, so for the most part I don't remember what I shot with it. What awaits me after it's developed? Nobody knows. Excellent!
---
26.06.2021
19:32 So I stayed up until 4:30 am just to see the Islanders lose. An awful game, it was. But, at least we're still a top-4 team baby! Let's hope Montreal eliminates Tampa in the Final.
---
25.06.2021
21:25 The Montreal Canadiens made it to the Stanley Cup Final, and on St-Jean-Baptiste Day, no less! I'm really glad to finally see a Canadian team in the final. Today I'm going to stay up all night rooting for New York Islanders as they will fight Tampa Bay Lightning for the second Final berth.

I became an Islanders fan in 2013; saw a lot of ups and downs, and the recent changes are very pleasing to see. Today is our big chance!
---
24.06.2021
20:17 I've realized that, while some foreign concepts, like the Danish Hygge or the Japanese wabi-sabi have become rather well-known in the West, virtually no-one outside of the post-USSR countries knows about the Russian philosophical concept of Avos'. I think it might be interesting for some people out there, so perhaps I should try writing an article about it.
---
22.06.2021
23:16 I've uploaded a prototype for the new photography page. Please tell me what do you think! It's very important to me that it fits in with the rest of the site. Everything on that page is subject to change, naturally.

Today I found a rotting Toyota Crown that's probably being restored by someone. Had lots of fun taking pics of it's front details and post-processing them afterwards!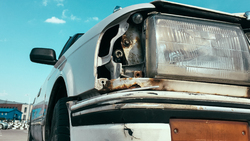 ---
20.06.2021
15:56 My mood has been steadily improving the last few days, which is definitely great. It seems like my inner self is finally realizing that I'm free of university duties.

I want to start thinking about moving out when my 2 weeks vacation is over in August. Living with parents certainly has it's benefits (and they want me to stay with them as well since I don't bother them), but it can't go on forever. I need more stillness in my life which can't be achieved as long as I'm living with them.

Some stuff from today.


---
19.06.2021
23:29 A couple of shots from the past few days. These fellows aspire to go to the moon.




This one was rather spontaneous. There's absolutely nothing special about it, but the way the morning sun filled the wall with light really caught my eye.


---
18.06.2021
23:58 Today I completed the first part of Shutoko Battle 0. Decided to celebrate this achievement by buying arguably the best car in the game.




In a few years I aspire to learn to drive an actual car (it's extremely hard and scary) and buy a 90s/00s Toyota Crown or a Mark II. I don't think I'll drive it every day, it's going to be more of a weekend car to have some fun with friends or maybe take my family somewhere.
---
16.06.2021
23:43 So, yeah, as stated in yesterday's entry that I edited today, I ended up ordering a Sony Mavica MVC-FD73. I got lucky to find a listing with a reasonable shipping price and with battery/charger included. I don't quite get it why most people don't sell them with their hardware when they most likely have it... Anyway, I also ordered a USB Floppy drive and I'm gonna ask on my work whether someone has any floppys they could give to me.

I don't think I ever shared it here. I have a glass can with some kind of plant (moss maybe? It was originally growing among moss if I remember correctly) sealed inside. I started it 2 years ago and it's the third generation of the plant already. It turns black, rots and probably decomposes during the cold seasons but grows green as Summer grows close. The insides are stained with algae or maybe some other kinds of moss, but the "main" plant is still more or less clearly visible. In the soil there's another kind of moss growing too. It is sealed and I never opened it since the beginning; the "ecosystem" is fully self-sustainable.


---
15.06.2021
23:14 Found a listing for a brand new Nikon Coolpix 950 in Moscow. It's cheap, brand new and CompactFlash cards shouldn't be too hard to connect to modern PCs. Perhaps I will order it tomorrow. Or maybe a good idea would be to wait for a little while to let the excitement from finding the listing settle down. Nevermind, the guy doesn't want to ship it even though the listing has nationwide delivery explicitly stated as available. I hate douches from Russian listing boards who do this.

Decided to order a Mavica FD73 off Ebay instead. I've been wanting to get a Mavica for maybe half a year now so I won't have to wait and see if I still want it in a few days.
---
14.06.2021
14:37 Yesterday I bought a wireless keyboard that I wanted to buy as a part of my wish to get rid of as many wires on my desk as possible, and the previous keyboard had a really thick wire. Today I also picked up a nice desk pad. I'm not a huge fan of the trim color, but the size is perfect. When placing orders online I usually choose the pick-up point that's either far away from home/work or is in some place that I've never been to before. It's a nice way to explore new places and a good reason to have a walk (it's not like I need any reasons though!). Now my desk looks like this (usually it's much more messy).


11:09 Been thinking about getting a Nintendo DSi. My DS Lite works, but the trigger buttons barely work, so I could use the Lite for carrying around and playing stuff like Picross or visual novels, and the DSi for playing other games at home. However, the biggest reason for getting a DSi is a nice little lo-fi camera. Heck, there's even a 8x optical zoom lens accessory available for this 0.3mp beast of a camera! I can't miss out on such an opportunity.
---
12.06.2021
17:34 Yesterday a friend took me to a karting track... I was dead scared as I was waiting for the attendant to start my kart - the last time I've driven anything in real life was 15 years ago (it was at karting too), but everything went surprisingly well - I didn't crash into anything or anyone and I didn't even spin out! I was driving exceptionally carefully on the side of the track and no one shouted at me during or after the session so I think I wasn't bothering anyone, which is very important.

I should start preparing my trip to Moscow now that university worries are over. Apart from booking a hotel room and airplane tickets I need to get a decent compact camera - I don't feel like carrying my current hunk of a camera around for 4 days, especially with it taking a lot of space in my backpack.
18:19 It's amazing how Japanese music sounds exactly like Russian music sometimes. A few examples:

Pure Russian chanson:
80s Soviet pop: 00s Russian rock:
---
10.06.2021
14:24 The results are in, I succesfully defended my thesis, getting a 4/5. I'm not feeling anything right now though, must be too tired. No more university crap! Finally I can do whatever I want after work.
12:10 Finished my speech for my thesis defense a couple of hours ago. Decided to work on some pages here to relax...
---
07.06.2021
16:51 I'm alive (to an extent). I somehow managed to finish my thesis in time (there was a minimum of 50 pages so I squeezed in every piece of information that's loosely connected to my thesis, but then I noticed that I've been using a wrong line spacing the whole time; switching to the correct one instantly added 8 pages, but I only did it after I finished, so that's 8 pages over the mimimal limit!). The "defense" of our theses, as it's called here, is in 3 days, after which I should finally be free. Or maybe expelled from the uni because my thesis is the worst one you can probably think of. Anyway it's all going to be over soon, which makes me glad.